Power Pack
από
Regular price

€65,00
Sale price
την ημέρα
Power Pack
από
Regular price

€65,00
Sale price
την ημέρα
Rental Plans
| # Days | Price | Price per Day | Discount |
| --- | --- | --- | --- |
| 1 | €65.00 | €65.00 | n/a |
| 2 | €84.50 | €42.25 | -35% |
| 3 | €117.00 | €39.00 | -40% |
| 4 | €143.00 | €35.75 | -45% |
| 5 | €162.50 | €32.50 | -50% |
| 6 | €175.50 | €29.25 | -55% |
| 7 | €182.00 | €26.00 | -60% |
| # Days | Price | Price per Day | Discount |
| --- | --- | --- | --- |
| 1 | €75.00 | €75.00 | n/a |
| 2 | €97.50 | €48.75 | -35% |
| 3 | €135.00 | €45.00 | -40% |
| 4 | €165.00 | €41.00 | -45% |
| 5 | €187.50 | €37.50 | -50% |
| 6 | €202.50 | €33.75 | -55% |
| 7 | €210.00 | €30.00 | -60% |
How many speakers do I need?
Playing music with SOUNDBOKS will most likely make someone come by and kindly (or not) ask to dial it down. Even at the beach, the speaker could easily drown out any other music playing within its vicinity. But then again, we prefer to have something still sound great at 60-80% volume. For larger gigs, we recommend a pair, or simply one SOUNDBOKS for every 40 happy people dancing in your party.
Where can I rent with Rover Soul?
Currently we ship only to the urban areas around Athens. Stay tuned as we plan to expand our coverage soon.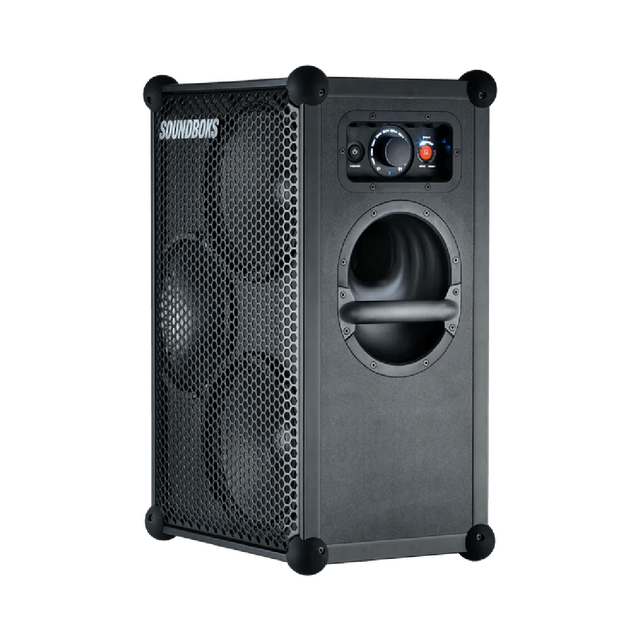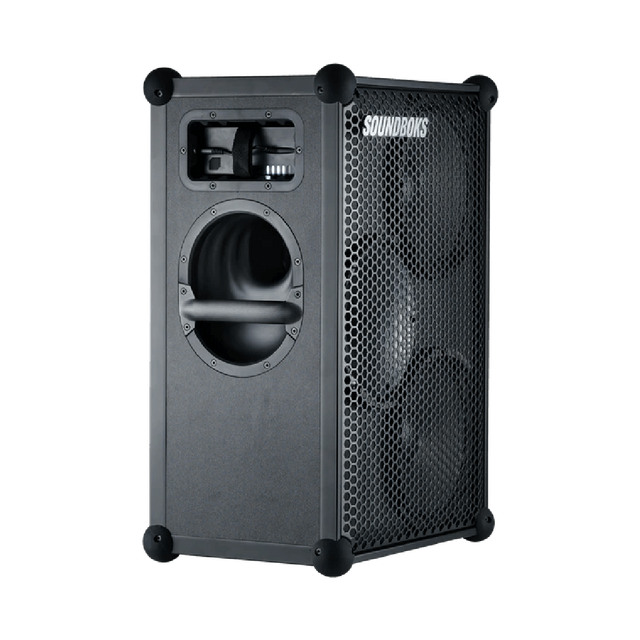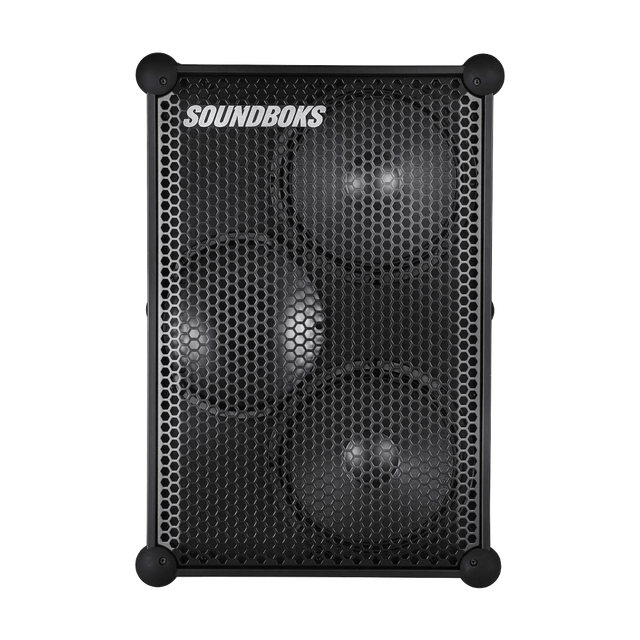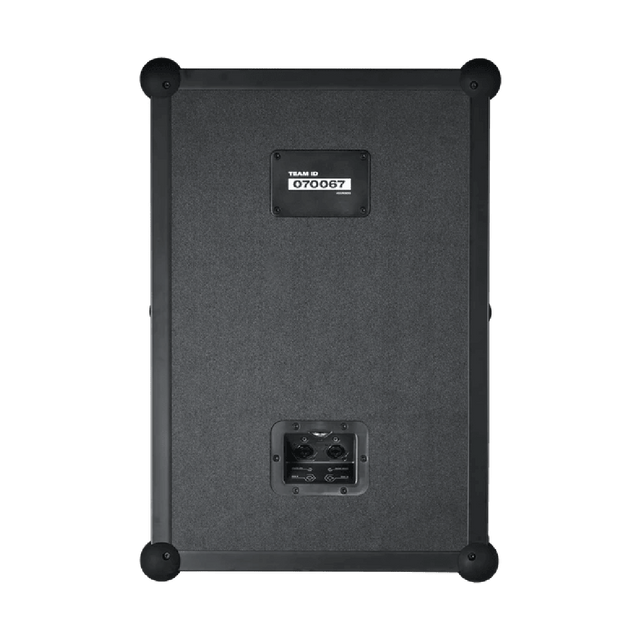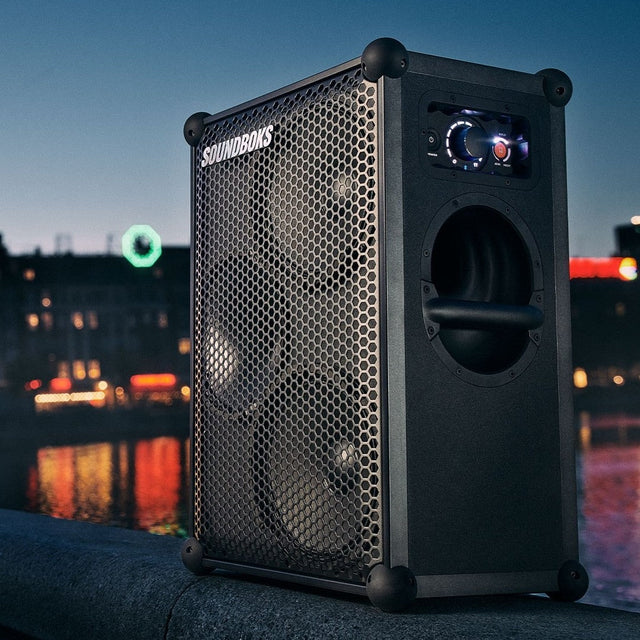 Η απόλυτη μουσική εμπειρία στο δικό σου χώρο  

Με μέγιστη απόδοση στα 126 dB, εύκολη δυνατότητα σύνδεσης πολλαπλών  ηχείων μαζί, ενσωματωμένο ενισχυτή και σύνδεση σε παροχή ρεύματος, 
είναι μόνο μερικά από τα χαρακτηριστικά που έχει να προσφέρει το ηχείο SOUNDBOKS 3ης γενιάς.

Εκτός από συνδεσιμότητα μέσω Bluetooth 5.0 ή SKAA, αυτό το αυτοενισχυόμενο ηχείο είναι εξοπλισμένο με δύο υποδοχές στερεοφωνικής υποδοχής 3,5 mm (μία είσοδο και μία έξοδο) και δύο συνδυασμένες εισόδους μικροφώνου/οργάνου υποδοχής υποδοχής XLR/6,3 mm, ένα χαρακτηριστικό που εξασφαλίζει ότι το SOUNDBOKS 3ης γενιάς θα ευχαριστήσει εξίσου ερασιτέχνες και επαγγελματίες.

Η μπαταρία που συμπεριλαμβάνεται στο πακέτο μας χωρίς χρέωση, θα εξασφαλίσει οτι το πάρτυ θα συνεχισθεί ακόμα και εάν διακοπεί το ρεύμα. Το ηχείο έχει ύψος 66cm, μήκος 43cm, πλάτος 32cm και βάρος 15.4kg.
To πακέτο περιλαμβάνει. 

1 x ηχείο SOUNDBOKS (Gen. 3)
1 x τροφοδοτικό για σύνδεση του ηχείου σε πρίζα
1 x μπαταρία αυτονομίας μέχρι 40 ώρες για ατελείωτο πάρτυ ακόμα και εάν το ρεύμα διακοπεί

Κατόπιν συνεννόησης παρέχουμε δωρεάν καλώδια σύνδεσης με laptop, μίκτη, κονσόλα, ή μουσικά όργανα.
About Rover Soul and our Services
What is Rover Soul?
Rover noun ˈRaʊ.vərˈ:a person who spends their time travelling to the most beautiful parts ofthe world.
We break the barriers of sound offering loud, wirelessly pairable, and surprisingly portable speakers with insanely long lasting battery life at low cost.
Where can I use this sound system?
Say hello to the best party speaker. It can be used in house parties (indoors and outdoors), open airs, camping trips and ski or sailing excursions, or even tailgates. Our equipment excels because of its power, portability and ability to link more speakers together.
How does renting work?
Select your desired dates and quantity at roversoul.com and simply complete your order online. Once we receive your order we will contact you to schedule the delivery on your desired time-slot.
We'll meet again after your term has expired to collect your order. Please note that extending your rent to a longer period is subject to availability.
What documents do I need?
To collect your order, you need your national ID card, a driving license, or a passport (preferred).